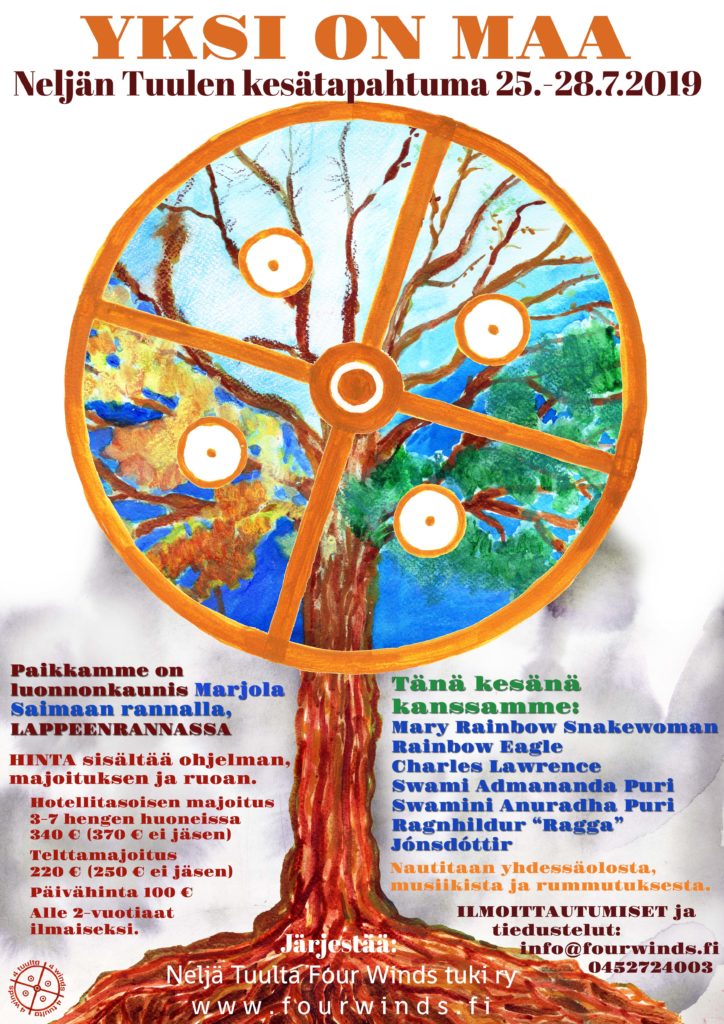 The Four Winds summer gathering "ONE IS OUR EARTH" 25.-28.7.2019
PLACE OF THE EVENT: Lappeenranta, at Marjola holiday resort by the lake of Saimaa, Eastern Finland. Place is easily reachable by public transportation (train, bus). The entire place is reserved for Four Winds only. http://www.marjola.fi/
Rainbow Eagle (USA): Seventh Fire Peace Shield teachings
Mary Rainbow Snake Woman (USA): Native American beadwork
Ragnhildur Jónsdóttir (ICELAND): Fairy folk and Earth spirits of Iceland
Charles Lawrence (USA) : Inner journey with Grandfather of the Four Winds
Swami Atmananda Puri (INDIA): Sacred Hawan Ceremony
Swamini Anuradha Puri (INDIA): Morning circles, Veda Art with children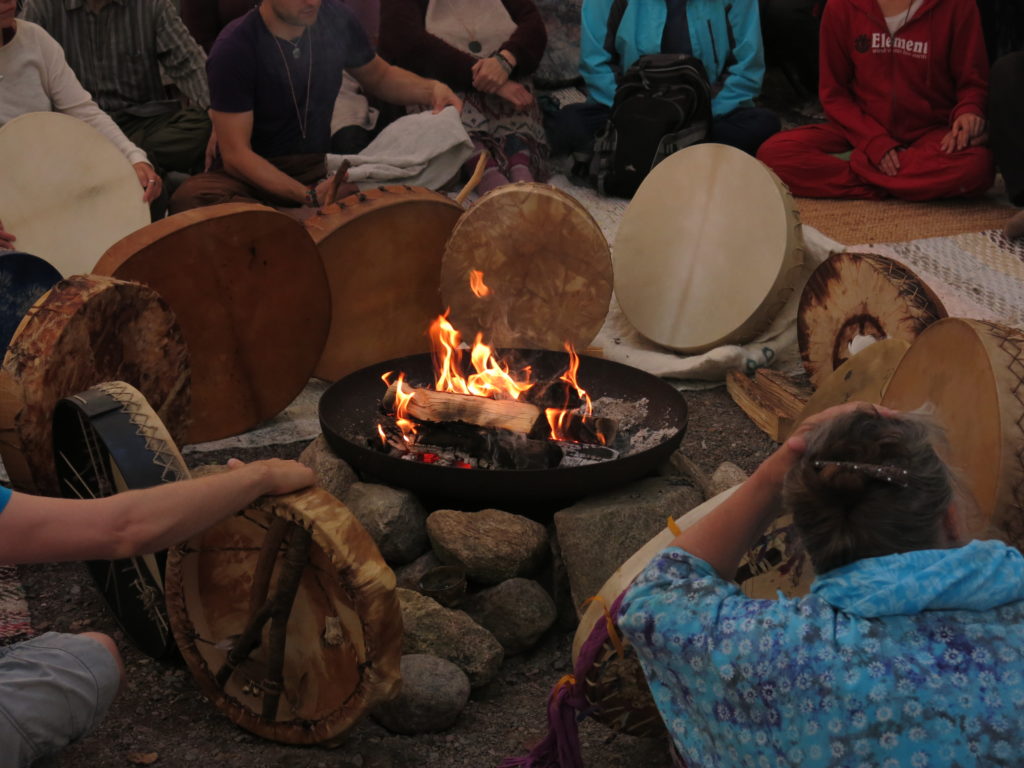 PROGRAM:
Daily program will be published closer to the event. Each guest will have his/her own day. Daily tickets also available.
Program will also have space for free time – sauna every day, swimming in the lake, communicating and sharing with others, Sacred Circles, drumming, singing, dancing, celebrating life and our precious Mother Earth.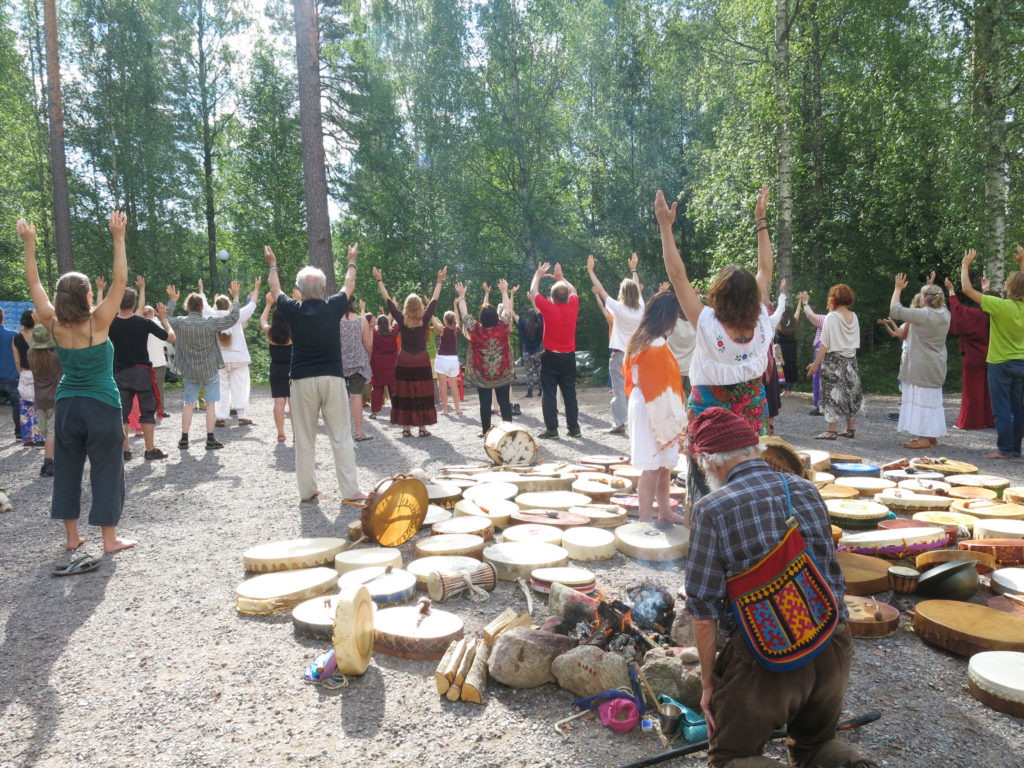 PRICES (includes accommodation, meals and program for all days)
For Four Winds members (adult):
-Accommodation indoors (3-4 persons in the same hotel room) 340 euros
-Camping (in your own tent) 220 euros.
For non-members (adult):
– Indoors 370 euros
– Camping 250 euros
Possibility to book sleeping place in our half-platoon tent if you don't have your own tent.
Rooms will be reserved in registration order, so gather your friends and be quick to register.
-Daily tickets 100 euros
PRICES FOR CHILDREN
Camping
2-12 years old – 110 euros
13-16 years old – 190 euros
Indoors/hotel accommodation with parents
2-12 years old – 150 euros
13-16 years old – 280 euros
Children under 2 years for free.
REGISTRATION:
Send e-mail to info@fourwinds.fi and tell us:
– Your name
– Contact information ( e-mail, phone number)
– Do you have any allergies – food is mostly vegetarian, might also have fish.
– Do you have any diseases etc. which organizers should be aware of in case of emergency
– Accommodation wishes – who is your roommate if you arrive with friend or children
Payment here: https://holvi.com/shop/4winds/
Information is only in finnish, but you will find right one based on the price, which are all different. Check your price above, and find that same amount from web shop options.
If you wish to join Four Winds and get your membership, you will need to pay membership fee. It is for calender year 2019.
20 euros/year for adults
10 euros/year for students, pensioners and unemployed.
From web shop it can be found under "jäsenmaksu". After paying, you are allowed to pay your camp fee as a member of Four Winds. No other information of membership needed.
PLEASE NOTE:
No alcohol or drugs are allowed on our camp.
Changes in the program are possible.
For questions and more information, please contact:
E-mail: info@fourwinds.fi
Facebook: Saila Anttila https://www.facebook.com/saila.anttila.1
Phone/WhatsApp: Virko Kolulahti +358-45-272 4003
Four Winds web pages: http://fourwinds.fi/2019/04/12/yksi-on-maa-kesatapahtuma-25-28-7-2019/