"Truth can't be conquered."
The original idea behind Four Winds comes from late Hopi-grandmother (Hopituh Shi-nu-mu) Carolyn Tawangyama who lived her long life honoring and listening to the Creation.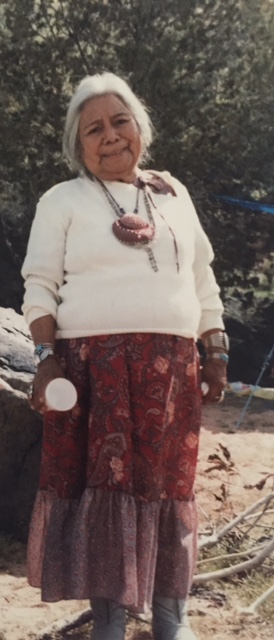 Carolyn Tawangyama is the first hopi born in the village of Hotevilla, Arizona. This village was founded in 1906 when some of the hopi people was driven away from the village of Oraibi, in connection with a serious dispute over the education of children. The controversy had begun to emerge in the 19th century, as federal-founded schools sought to christianize children and force them out of their own language, culture and customs. Carolyn's father was also put to jail, among other men, because refusing to sing contract about their children's schooling.
Dispute over children's schooling affected Carolyn also a great deal; she was was only 6 years old when taken from Hopi by US soldiers to an Indian school. It took 17 years before she returned. After returning she became involved with the Tribal Council and was highly valued because of her translation skills. Later on Carolyn assisted in getting a documentary film about Hopi to be translated into English.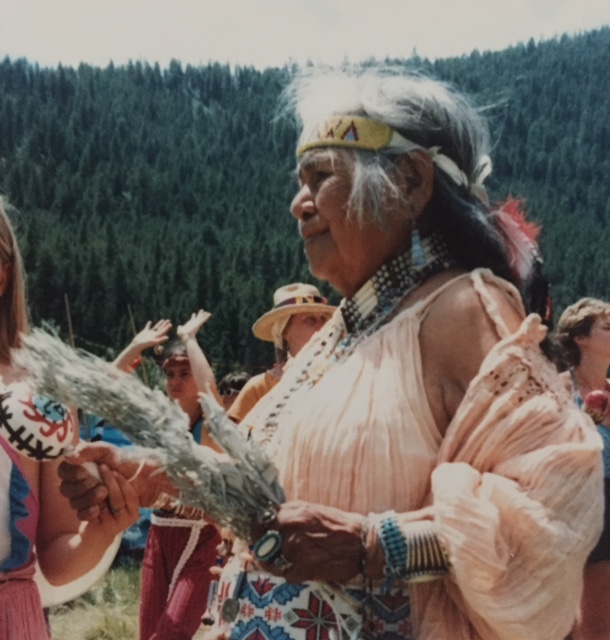 The Hopi Prophesy carved in Prophesy Rock, and efforts to make more people aware of it, was a constant item on Elder's agendas. In the Hopi Prophesy it is stated that Hopi are to "knock" on the door of the House of Mica (UN main building in New York). When Charles Lawrence met Grandmother Carolyn, Hopi Delegations had already for 45 years had efforts in addressing members there. Only few months after Charles and Carolyn had met in late 1980's. Charles was invited to join the Hopi Delegation – to "knock" on the door of the World's leaders for the third time, so that Hopi could present their most valuable information to the Delegates. Once again, Hopi were refused and they went home disheartened. Next attempt was by Thomas Banyacya in 1992.
A new chance started emerging when a Hawaiian Kahuna and some of his students had arrived on Hopi looking to make connection with the Traditional Hopi. Charles Lawrence participated in the meeting, after which Massau (Creator) appeared to him. This started a process of many years, during which some of the Hopi Elders died. Finally Charles was possessed to call UN – a phone call from nearest phone (125 miles away) created the contact and Hopi among other First nation members were allowed inside UN to share their essential wisdom over human nation in December 1993 (Cry of the Earth). This was Carolyn's last visit to New York.
Carolyn was always ready to assist the community any way she could. She was a spunky traditionalist who wanted to maintain the Hopi lifestyle and defended their right to decide things in their traditional land. Among other things, Carolyn wanted to save the Hotevilla village from the pipeline and once jumped into the trench in front of the bulldozer. The tribal police pulled him out of the pipe trench and later the tribal council decided not to take her to prison because of this. In her own community Carolyn was highly valued, but some distrusted her because she went so far.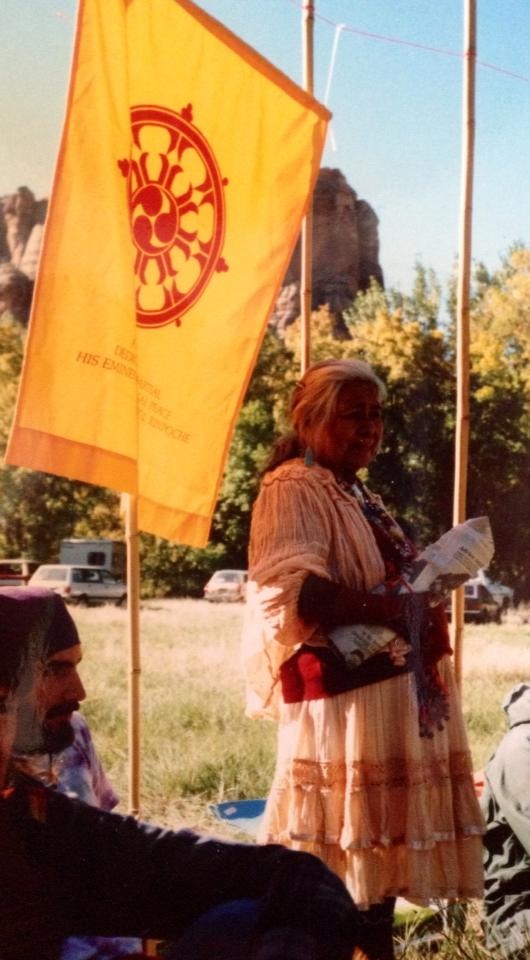 Grandmother Carolyn worked all over the world to promote world peace and spiritual growth. In her words: "A small group of people who overcome themselves will unite the prophesies and bring back unity for all people." This is part of the Hopi prophecy, being passed on some 800 years. In modern times, the Hopi many times tried to get this prophecy to be heard by world leaders.
"I always work this way, I first find myself, then there need to be love. It's pretty hard to work with love, for a lot of people won't accept you. But you have to work at it, constantly praying. – – Then you don't get what you wan't, after Creator, keep on, keep on asking, He never refuses give you the answers. Don't be ashamed to shed little tears. We have a reason to tears, it's to cleanse you. – – Never forgetting that only through Creator we can achieve anything. For all things are possible if, you only ask."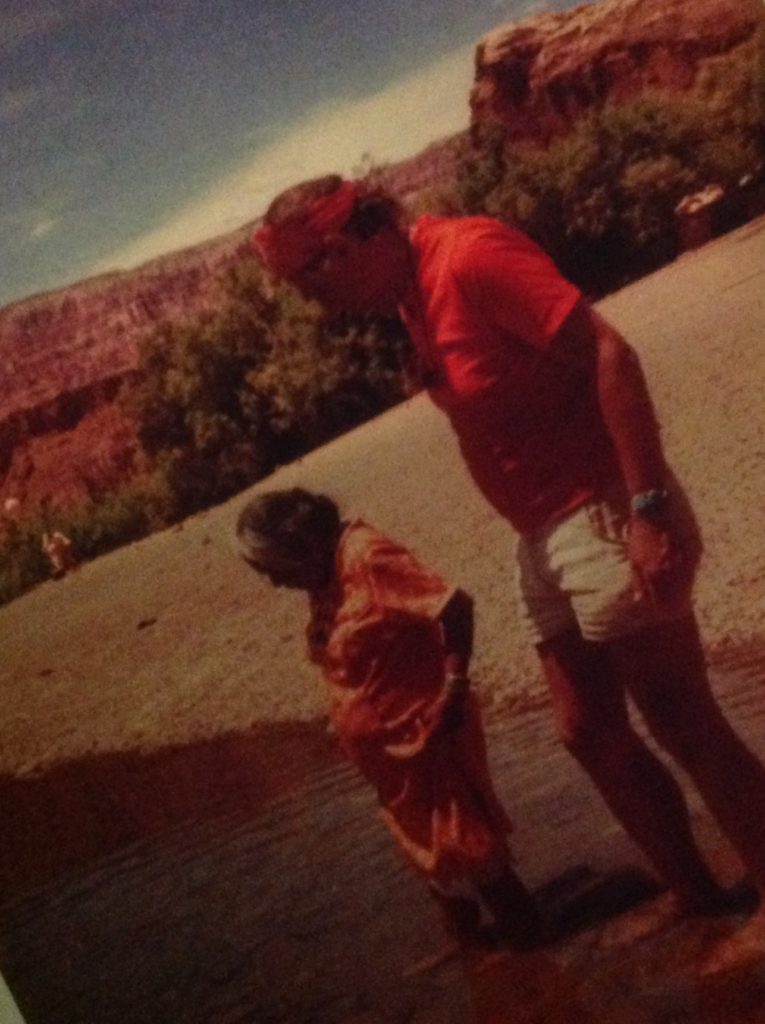 Carolyn visited Finland in 1989 at the age of 86 on a trip to Moscow, when Mikhail Gorbachev's wife Raisa Gorbacheva had convened a conference called "Grandmothers for World Peace". Charles Lawrence escorted Carolyn on the journeys.
One of the founders of Four Winds, Teemu Kassila, had previously visited Hopiland and met Carolyn there.
Grandmother Carolyn is described as happy and wise woman. She loved horses and knew "the Way of the Horse". She also knew that "the teachings are in the corn" and its centrality to the continuity of Hopi culture. Carolyn described herself as a "only messenger". Her central wisdom is about hopi prophesy and humanity's decision between two things: "The Path of Everlasting Life" or destruction.
Written by Sisko Pajari
Hopi Prayer For Peace
The Cry of the Earth – Hopi Delegation
In the winter of 1993, spiritual leaders of 7 indigenous nations of North America came to the United Nations to deliver their traditional prophecies relating to the earth. Algonquin – Mi-kmaq – Huichol – Maya – Lakota – Iroquois – Hopi They traveled from the four directions to bring their urgent messages to an audience of United Nations dignitaries and honored guests.
HOPI DELEGATION: Martin Gashweseoma, Traditional Spiritual Elder Thomas Banyacya, Emery Holmes, Sr., Manuel Hoyongowa